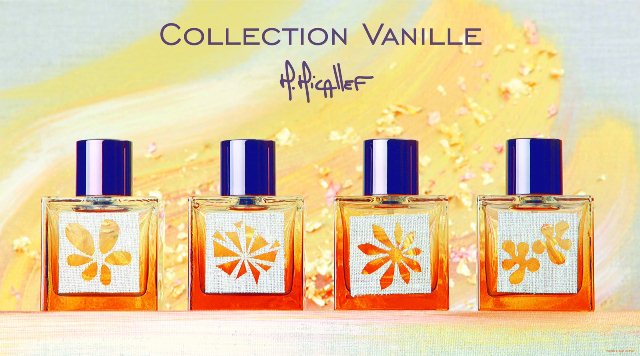 Full disclosure: Samples of the below fragrances were sent to me by M.Micallef.
M.Micallef Vanille Orient
– Probably my favorite of the four new vanilla-centric scents from M.Micallef, Vanille Orient is not, as the name might suggest, a complex, classically structured oriental with a bergamot top note and a floral heart. Instead it's a very simple woody vanilla perfume, along the lines of Un Bois Vanille from Serge Lutens but lighter and less smoky – or, if you prefer, like Kate Walsh Boyfriend without the patchouli. When I first sampled it, it seemed quite nice, like a version of Gaiac, an older scent from the same line, with more creamy vanilla. The problem emerges when you wear them side by side: Gaiac is just a better perfume, richer and fuller and more balanced. There's vanilla there, but it's in perfect balance with the resins; the overall effect is of a spicy amber, like a slice from the end of Ormond Jayne Woman, or a sweeter version of YSL Nu. Next to Gaiac, Vanilla Orient feels like it's missing some notes on the base end (too much treble). It also feels like they tried to dry it out with a
woody amber
, i.e. a smidge of chemical headache. Again, when I tried it on its own I liked it, so there's nothing really wrong with it per se, and if you love vanilla and hate amber you might prefer it. But I'd go for Gaiac every time (it also happens to be cheaper on a per-ml basis, which can't possibly be due to the cost of materials).
M.Micallef Vanille Cuir
– Much stranger and more complex than Vanille Orient, Vanille Cuir comes out of the gate with a floral leather accord that is creamy-sweet with vanilla and musk and, at the same time, bitter-acerbic with bergamot and lavender. There's also a cool, almost metallic touch of mint, like that chilly vanilla-mint aroma you get in the back of your mouth from white Tic-Tacs. If you think of smells in terms of music, it's high-pitched; if you think in terms of color, it's pale, like chamois. The leather is present throughout, as is a soapy note of orange blossom. It took me a while to figure out what Vanille Cuir reminds me of, but it hit me an hour or two into my first wear: The base is similar to Putain de Palaces, AKA Hotel Hooker from Etat Libre d'Orange. After completely different openings (PdP's is a trashy-sweet, retro rose-violet accord), they both end up in the same bizarre union of creamy, sweet, and animalic, like Dove soap and a raunchy armpit all at once. Like Putain de Palaces, this is both fascinating and a little gross. Definitely worth trying if you love weird leathers.
M.Micallef Vanille Fleur
– More like Vanilla Fruity! It's not that this isn't floral, but the fruity (banana-like) aspects of ylang are what you mostly notice, and it's got a huge tropical fruit note to boot, creamy and a little funky – the notes list peach, but I smell a gargantuan mango. It's overdosed to the point of being medicinal. Vanille Fleur is far too sweet for me in the initial stages, and commits the ultimate sin of a niche fragrance, as far as I'm concerned – namely, it doesn't smell expensive. It kind of smells like a scented lotion you'd get from Bath & Body Works. To be clear, I really, really didn't like it. In fact, I scrubbed it off and gave away my sample, so this review is based on one partial wear. YMMV. For a vanilla floral done right, see By Kilian Sweet Redemption.
M.Micallef Vanille Marine
– This is the one of the four I was most afraid to sample, because marine notes can be really disgusting – see
L'Eau d'Issey
, which I wore in high school; 12 years later I realized it smells like industrial cleaning solvents. Even natural seaweed absolute, as in
MCMC's Maine
, turns my stomach. But the marine element here is quite subtle and fleeting, a far-off whiff of a chlorinated pool. If there's Calone in here (the melon-y, aqua-blue smell in the aforementioned L'Eau d'Issey as well as CK One, the original Escape and other '90s clichés), it's in minuscule amounts. Instead, it's a soft fruity floral in the style of Pink Sugar Sensual, a pink-lemonade-and-cupcakes scent for sexy tweens that, I'm not ashamed to say, I bought a bottle of for next to nothing at TJ Maxx. This makes sense because the top notes are lemon and blackcurrant. But Vanille Marine does have a slightly salty-savory edge, which reminds me of celery (vetiver?) more than the sea. Over time that aspect fades and it just smells like a bare fruity floral. There's nothing horribly wrong here except that, once again, it doesn't smell expensive in the slightest.