My lovely local perfume friend
Natalie
is no longer local; she will be traveling on the continent (lucky!) this summer and then moving to a new permanent address in the fall. Last weekend I dropped by her place to "help her pack" – what I actually did was drink two mimosas and take a bunch of her stuff, like half the contents of her spice cabinet plus a bunch of nail polish and perfume. Among my winnings: samples of all six of the "Memories" collection from SixScents. This is my first experience with the line; the first collection of six was not reviewed favorably in The Guide and I haven't heard much about them since, so I decided to minimize risk and try them on blotters. Here are my first impressions (the quoted text is from the cards on the samples; each perfumer was asked to create a scent based on the memory of a designer):
No. 1 Beau Bow (by Alexis Mabille & Rodrigo Flores-Roux
"The fragrant smells of 1970's French Bourgeois culture as experienced by a chic, cultured teenager making love to the world for the first time."
The gender neutrality of this description is interesting. Of course the "beau" in the name implies it's for le dudes and indeed, it has a "fresh" cologne-y smell that reads as primarily masculine. It starts off green and astringent, like one of those gin-and-tonic Hermes scents. Then there's a watery/aquatic cucumber-violet leaf vibe allowed to get a little funky, because if it was perfectly shower-clean it wouldn't smell French, and certainly not '70s-French. But it's not really funky enough to evoke teenage sex, even among the
chic
.
No. 2 Trompe L'oeil (by Mary Katrantzou & Shyamala Maisondieu)
"Picturesque moments spent eloping to the beaches of Greece. Fresh shampooed hair, lipstick, sweet cocktails and the seabreeze over the warm Mediterranean air."
You can elope more than once? No. 2 opens with an intensely fruity almond top note (mimosa tonka overdose) that wants to be interesting but veers quite suddenly into disgusting territory – up close it's pure cough syrup. Eventually that calms down and you're left with a gourmand suntan lotion kind of scent, similar to Serge Lutens' Datura Noir, but sweeter and tackier. I guess it's supposed to smell like shampoo, so you can't really fault them.
No. 3 Can't Smell Fear (by Juun J & Natalie Gracia)
"Providing the protection and comfort of an old leather jacket in a city of concrete and wood."
Interesting sharp, citrusy-floral leather in the style of Jolie Madame, Azuree, Aramis, etc. We've got bottles of all three of those so I wouldn't need this one, but it's well done, if not terribly original.
No. 4 Ascent (by Rad Hourani & Christophe Raynaud)
"Ascent replicates the journey of life to death through notes that punctuate each stage of life."
Seems like Rad doesn't really get how memories work. In trying to capture the full arc of existence, they came up with something that smells exactly,
exactly
like a bar of cheap white soap. Ugh.
No. 5 #087 (by N.Hoolywood & Stephen Nilsen)
"Experiencing America for the first time after a childhood spent in Japan. Traditional woody notes of serene Japanese spas and an industrial infusion of motor oil that triggers memories of cross country road trips."
A strangely attractive combination of minty and smoky smells. Appealingly intellectual, this is like a cleaner, crisper version of Andy Tauer's Lonestar Memories. It really does evoke serene outdoor landscapes and industrial equipment at the same time. Unfortunately, as time goes on the "motor oil" accord fades, and the drydown is overly sweet and soapy.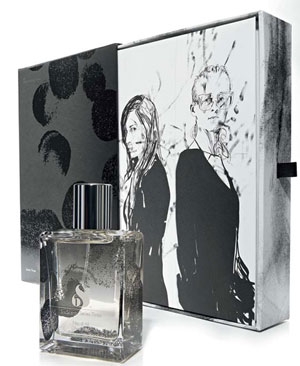 No. 6 M (by Ohne Titel & Yann Vasnier)
"Rebellious nights spent up til [sic] dawn; dancing, meeting friends and finding love."
Wow. This one is really interesting too – in fact this one I decided to spray on skin. It smells like sweet, musky-animalic leather, odd and familiar in such equal measure that I had to look up the notes to see what I'm smelling. Here's the list from
Fragrantica
: cardamom, cedar, black plum, tonka, castoreum, civet, musk, moxalone and cosmone. The castoreum must be responsible for the smoky leather note. What's really amazing, though, is that it doesn't smell overtly dirty or naughty the way perfumes with civet, etc., can. It just smells deep and lush, even velvety. It's also a little bit chemical, but in a completely successful way, like
Gucci Rush
– as in #087, the memory has really been captured. It's so clearly a night perfume, sexy and mysterious, like brushing up against a stranger. I'm going to go ahead and call this one AWESOME.
Collections like this, with multiple perfumers, are bound to be hit or miss, but I have to say this one definitely isn't boring, and M might even go on my purchase list.